On April 20, 2023, Weinstein Wholesale Meats, Inc., based in Forest Park, Illinois, announced a recall of approximately 2,122 pounds of raw ground beef burger products due to potential contamination with extraneous materials, specifically pieces of white neoprene, according to the U.S. Department of Agriculture's Food Safety and Inspection Service (FSIS).
The affected raw ground beef burger patties were produced on March 14, 2023, and the specific product subject to recall is 10.7-ounce vacuum-sealed packages containing two pieces of "100% Grass Fed & Finished Beef Burger Patties 85% Lean/15% Fat" with "Use/Freeze By 4/11/23" on the package label. These products bear establishment number "Est. 6987" inside the USDA mark of inspection and were distributed to an online distributor, which sold them to customers nationwide.
The recall was initiated after the establishment received multiple consumer complaints reporting the presence of white "rubber-like" material in the ground beef patty products during preparation. While there have been no confirmed reports of adverse reactions due to consumption of these products, FSIS advises anyone concerned about an injury or illness to contact a healthcare provider immediately.
Consumers who have purchased these products are advised not to consume them and to either throw them away or return them to the place of purchase. FSIS routinely conducts recall effectiveness checks to ensure that recalling firms notify their customers of the recall and that steps are taken to ensure the product is no longer available to consumers. The retail distribution list(s) will be posted on the FSIS website at www.fsis.usda.gov/recalls when available.
Consumers with questions about the recall can contact Nicole Schumacher, Chief Marketing Officer, Pre Brands LLC, at 844-773-3663 or reachus@eatpre.com. Members of the media with questions can contact Paul Esposito, Chief Operating Officer, Weinstein Wholesale Meats Inc., at 630-390-9138 or media@weinsteinmeats.com.
Consumers with food safety questions can call the toll-free USDA Meat and Poultry Hotline at 888-MPHotline (888-674-6854) or live chat via Ask USDA from 10 a.m. to 6 p.m. (Eastern Time) Monday through Friday. Consumers can also browse food safety messages at Ask USDA or send a question via email to MPHotline@usda.gov. To report a problem with a meat, poultry, or egg product, the online Electronic Consumer Complaint Monitoring System is available 24/7 at
https://foodcomplaint.fsis.usda.gov/eCCF/.
Hyperspectral Food Foreign Matter Detection Systems bioClass®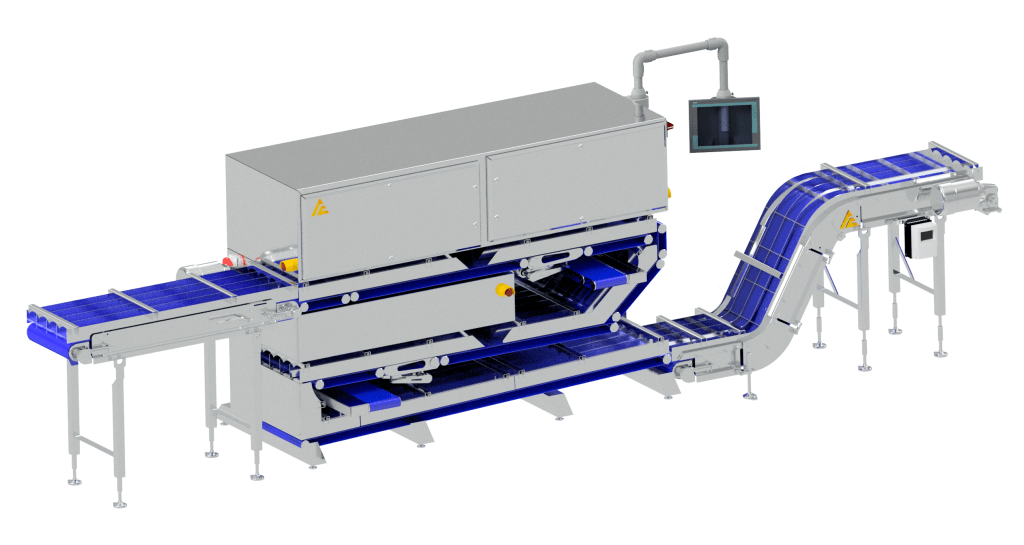 The use of bioClass® hyperspectral machine vision solutions from Automate and Control LTD in food processing facilities can help detect foreign materials, such as plastic or rubber, in products before they reach consumers. These systems use advanced imaging technology to scan products as they move along a conveyor belt and analyze their spectral signatures to identify any anomalies.
In the case of Weinstein Wholesale Meats, Inc.'s recall of raw ground beef burger products, an automated bioClass® hyperspectral machine vision solution could have detected the white neoprene pieces before the products were packaged and shipped. The system could have been programmed to identify any foreign materials that did not match the spectral signature of the ground beef and trigger an alert for inspection or removal.
Moreover, automated hyperspectral machine vision solutions can operate continuously and in real-time, making them highly efficient at detecting any potential contamination issues that could occur during processing. This level of automation and control provides a high degree of accuracy, reliability, and consistency, ensuring that all products meet strict quality and safety standards.
In conclusion, the use of hyperspectral machine vision solutions in food processing facilities can help prevent recalls like the one from Weinstein Wholesale Meats, Inc. by detecting foreign materials and ensuring that products meet strict quality and safety standards. By automating and controlling the inspection process, these solutions can improve efficiency, reduce costs, and ultimately, protect consumers' health and safety.